Mindo Full Day
Mindo is located 70 km away from the city of Quito, to the northwest of the province of Pichincha. It's a famous place among foreign and national tourists, mainly for being a destination for bird watching because this parish is located on the influence area of the Mindo – Nambillo Protected Forest; but also, because there're many activities to do such as tubing in the rivers, hiking through the forest while seeing beautiful hummingbirds and admiring the different varieties of orchids and butterflies, canopy, horseback riding, among others.
Key Features
Unforgettable experiences
Description
On this tour, you will visit the Mindo Butterfly Garden and Orchid Garden, two beautiful places that will allow you to appreciate the richness and diversity of flora and fauna that the parish of Mindo has. In addition, you will do canopy, an adventure sport that will give you the sensation of flying while you appreciate the landscape and nature from above.
So get ready to discover Mindo, a place that lies between the mountains and the Ecuadorian coast, but that has the soul of an Amazon. With a warm and humid climate that has allowed the development of a great biodiversity and has adventure activities of all kinds.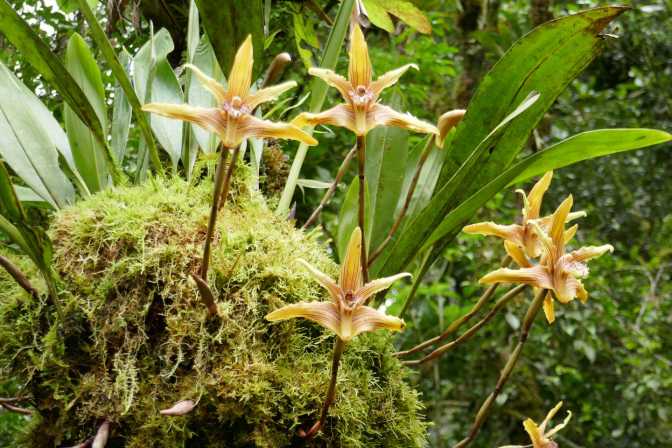 Orchids
Orchids or Orchidaceae are probably one of the most extensive families of plants, they are distinguished by the complexity of their flowers and the beauty that they can have. Orchids inhabit almost every corner of the planet, they're in all the climates and on all the continents around the world (except for the polar regions and arid deserts). Ecuador, declared since 2013 as "Country of Orchids", has four of the five existing subfamilies worldwide, which means 4,032 of the species that have been classified and published as far, and of which 1,714 species are endemic.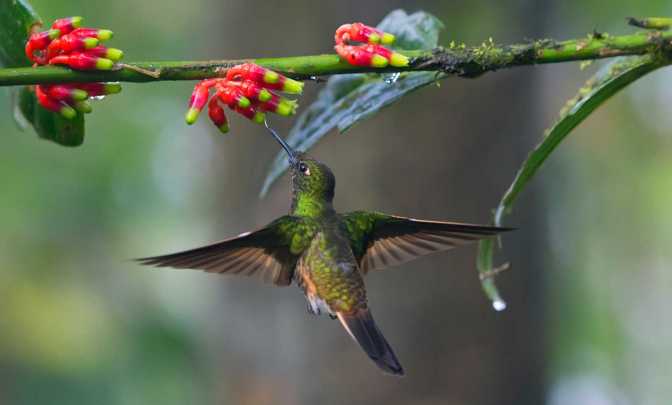 Hummingbirds
It's one of the smallest birds known in the animal kingdom and they are the only ones that can fly in all directions: right, left, forward and backward. Its size ranges from 5 to 20 centimeters high, and its weight is around two grams, it has a long and narrow beak and a proboscis-shaped tongue. They feed on the nectar of flowers. Hummingbirds cannot walk due to their short and weak legs; however, they use them for two activities: perching on tree branches or solid surfaces to rest or sleep, and scratching.
Butterflies
Lepidoptera, commonly known as butterflies, are a group of insects that throughout their lives undergo a series of complex transformations known as metamorphosis, whose phases are embryo, larva, pupa and imago. They have a pair of long antennae, compound eyes, six legs, two wings, and a body divided into three parts: head, thorax, and abdomen. Their mouth is shaped like a tube that allows them to suck the nutrients from the plants to feed through a long tongue that is rolled upon itself and is called a spirit tube. The common habitat of these animals is tropical regions with warm climates all or almost all year round and abundant vegetation, however, they are distributed in most of the planet's continents, except Antarctica. Around 24,000 species of butterflies have been described in the world to date, and of these, 4,000 have been recorded in Ecuador, of which 200 species are endemic.
Mindo Butterfly Garden
EL JARDIN DE LAS MARIPOSAS, Mindo, Ecuador
Orchid Garden
JARDIN DE ORQUIDEAS, MINDO, ECUADOR
---
Travel Tip
To have a better experience during this tour, remember to wear clothes for a warm and humid climate and also comfortable walking shoes. It's very important to have cash if you want to buy a bottle of water, any snacks or handicrafts in Mindo.
Information
Tour details.
Departure

Hotel pick up.

Not Included

Other activities that aren't detailed in the itinerary
Only logged in customers who have purchased this tour may leave a review.