What to pack for Amazon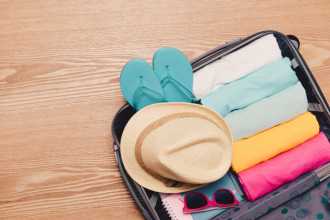 Hiking shoes
You will walk a lot during the excursions in the Amazon jungle, so it's very important to feel comfortable in your shoes.
Wind and waterproof coat
The Ecuadorian Amazon is generally characterized by having a very humid tropical weather and a high degree of rainfall all the year. So, it's important to have a waterproof coat, to be fresh and protected from the rain and from mosquito bites.
Reusable water bottle
During your visits to the different places of the Ecuadorian Amazon, you will walk a lot so you easily can feel thirsty, especially because of the humid tropical weather. For that reason, is necessary to bring with you a reusable water bottle that will help you to stay hydrated.
Sunscreen
Sun exposure can be high during the day. And despite the humid tropical climate, keep lipstick in mind to avoid dry lips.
Tropical - humid weather clothes
During your visit to the Ecuadorian Amazon, it is necessary to dress in comfy and fresh clothes that help you to feel fine in the humid tropical climate.
Cash
It's very important to have cash if you want to buy handicrafts or other things from the Ecuadorian Amazon indigenous people.