What to pack for Guayaquil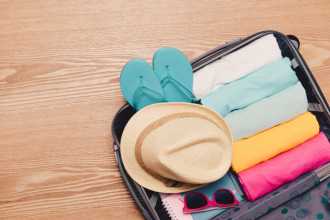 Hiking shoes
It is necessary to visit the most famous destinations in the city, from visiting parks, museums, boardwalks, boulevards, to climbing many stairs to a hill.
Reusable water bottle
Guayaquil is a very hot city, it is very important to bring water so as not to exhaust ourselves due to the tremendous heat that it makes touring a large part of the famous Pearl of the Pacific.
Sunscreen
The continuous use of sunscreen is very important since we avoid having burns when visiting the tourist spots and thus protect us from the hot climate of Guayaquil.
Cash
It is advisable to bring money to buy various souvenirs of the city, there are many interesting shops to buy handicrafts made by the inhabitants themselves, you can take your friends and family to the Famous Pearl of the Pacific.
Comfortable clothes
Guayaquil has a very hot climate, so it is walk around the city comfortably and without worries about it, it is convenient to dress in very thin clothes.