Guayaquil City Tour
Guayaquil is the largest city and main port of Ecuador. Guayaquil is a low-lying city with a hot and humid climate. Located a little more than 2° south of the equator, rises like a pearl on the southern Pacific coast, on the banks of the majestic Guayas River where it is crossed by several estuaries such as the Salado. "The Pearl of the Pacific", as it is known, has endless tourist attractions that will make your visit an unforgettable experience.
Team
Bilingual guide, Local Guide
Description
Visit to the main attractions of the city of Guayaquil: 9 de Octubre Boulevard, Malecon Simon Bolivar (2 miles waterfront, plazas, monuments, botanical gardens & more) Cathedral, Seminario Park and its exotic tree Iguanas, Santa Ana Hill (the oldest part of the city).  We can visit the Panama hat factory (from Monday to Friday) under request, no additional cost.
Most of the time we combine a panoramic driving with a pleasant walking, it will depend on your interest, weather conditions, season, etc. Your Tour Guide will give you a brief explanation about the options you have for your tour to have an unforgettable experience for you at The Pearl of the Pacific.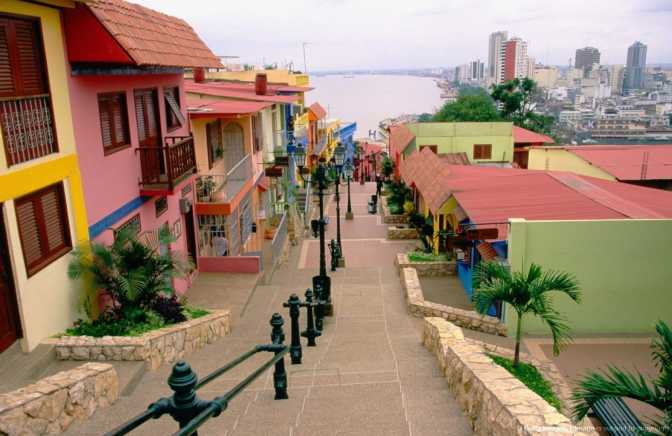 Santa Ana Hill
The Santa Ana Hill of Guayaquil is a site of tourist interest. Restaurants, cafés, art galleries, internet cafes and handicraft shops are 310 meters away. It is equipped with squares, recreation and rest green areas, its most important attraction offered to tourists is the majestic view of Guayaquil.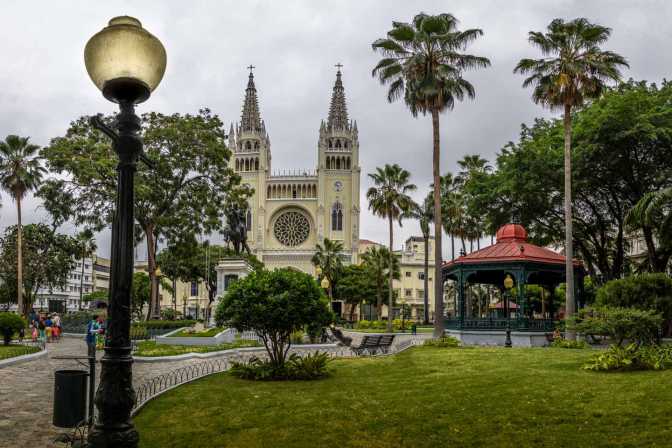 Seminario Park
It is known by this name the park Seminary Guayaquil, because in its well ornate gardens, live dozens of iguanas that become a unique attraction for tourists who say they give a prehistoric and natural vision to the park.The reptiles, of the species called green iguana, known as the "Guayaquil iguana", which measure up to one meter long, walk with tranquility and their behavior is friendly.
Malecon Simon Bolivar is a place that will have everything for your entertainment from the gardens to the monuments that are part of history to mention some of the gardens are conjugated with artificial lagoons, pools of water, docks, viewpoints and historical monuments mentioned below:
La Rotonda, Torre Morisca, Aurora Gloriosa and the statue to Olmedo; museums, CineMax, shopping malls, restaurants, bars, food courts, children's games and all the attractions, services and comforts that a tourist needs.
Malecon Simon Bolivar
Malecón Simón Bolivar, Guayaquil, Ecuador
Seminario Park
Parque Seminario, Chimborazo, Guayaquil, Ecuador
Panama Hat Factory
El Sombrero, Juan Montalvo, Guayaquil, Ecuador
Boulevard 9 de Octubre
Boulevard 9 de Octubre, Guayaquil, Ecuador
Santa Ana Hill
Santa Ana Hill, Guayaquil, Ecuador
---
Travel Tip
It is necessary to wear very comfortable clothes, a hat, sunscreen, water, glasses and especially a camera to capture all the historical attractions of Guayaquil, the clothes must be thin due to the hot weather of the city.
Information
Tour details.
Departure

Hotel

Not Included

Other activities that aren't detailed in the itinerary
Only logged in customers who have purchased this tour may leave a review.