North Seymour Island Day Tour
North Seymour is one especial site. It is a hotspot for wildlife. In this excursion you will have the amazing opportunity to visit three breeding colonies of seabirds, a sea lions' colony, among other animals and endemic plants. The main attraction on Bachas Beach is to snorkel with Galapagos green sea turtles and to find the American flamingos. The order of these visits depends on the boat itinerary been authorized by the GNPS.
Key Features
Seabird breeding colonies: Frigate birds, blue footed boobies and swallow tail gulls.
Description
You will start your 45 minutes sailing from the Itabaca Channel to the North Channel (North of Baltra). To visit North Seymour, you disembark on a semi natural duck (dry landing). You may do a short dingy ride before or after your landing. Since you put your eyes in this piece of land, you will start enjoying the wild life: sally lightfoot crabs welcome you, then some swallow tail gull (the only nocturnal gulls). The trail is a loop, one part is following the coast and then gets inland. Your guide will decide which way to go. Here you will have the unique opportunity to find the two species of frigate birds, and the regular bag of these males trying to get the attention of a female. Also, you might see a glamorous blue footed booby dance, and chicks, sometimes few or several, depending on the season. Then you will return to the boat, to get ready to snorkel in North Seymour, if the sea conditions allow. Then back on board to have lunch while you sail to the North coast of Santa Cruz to have a disembark on a beautiful white sandy Bachas beach, there you will walk with your guide to a brackish lagoon to look after flamingos, and you will have time to swim or snorkel (especially if the conditions in North Seymour were bad). The beach to be visited (Bachas or Mosquera) depends on the authorization of the Galapagos National Park on the day of your journey.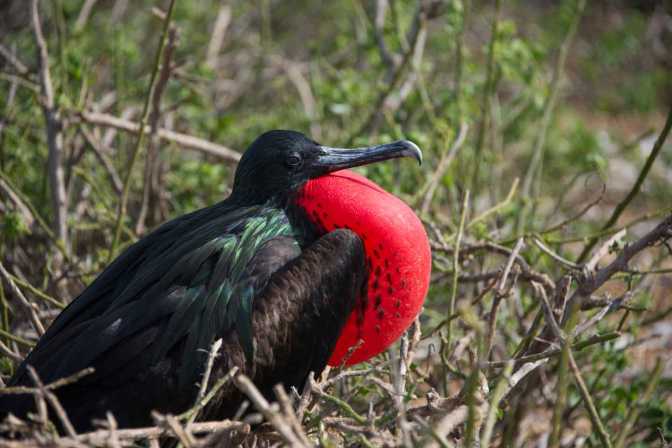 Frigatebirds
This agile bird got bad fame. They been known as "the pirates of the sea". We must clarify that we have two native species: 1) The magnificent frigate-bird that is a klepto-parasite (steal for living) getting catch from other birds (gull, boobies, tropicbirds and others). The great frigate-bird, that acts mostly as a scavenger, they follow predators like sea lions or orcas and getting the leftovers from the surface of the sea. Both species don't like to get wet and can fly very high some of them reaching 2,500 m it means over 8,200 ft.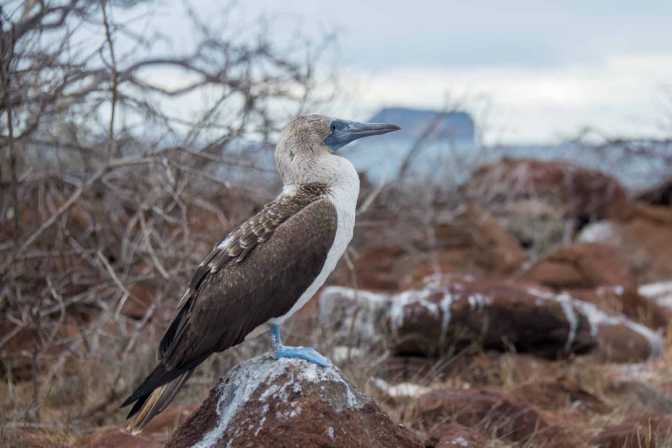 Blue footed boobies
Blue in nature is a very unusual one, and the blue kind of booby feet its incredible. Scientist had found that the tone of blue matters, it is important since reveal how healthy, mature and well feed is a booby. The best is a kind of bright turquoise, no too dark purple, not too light-blue. Apparently, the couple dance, that involve to show each other their feet, helps to pick the right partner, in something that is call "sexual selection in both sides".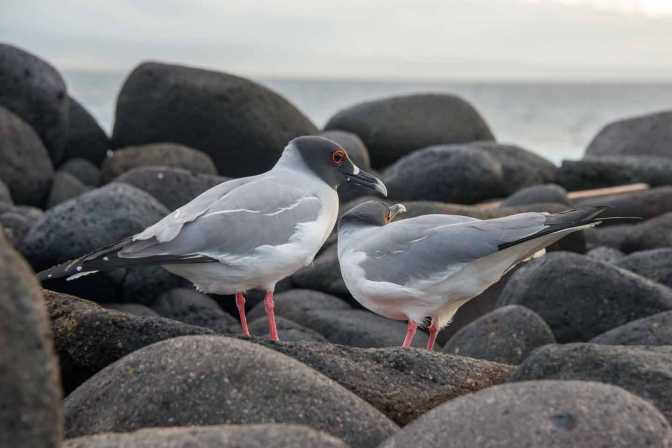 Swallow tailed gull (Creagrus furcatus)
This endemic bird only breeds in the Galápagos, but its fishing areas are in the open ocean mainly in front of the coast of Chile and Perú. They catch the prey (small fish and squids) using its hooked bill from the water surface. It is the unique species of its genus, because is the only nocturnal gull all over the world, they have bigger eyes than other gulls. They also have a tapetum lucidum in the back of the eye that reflects light back through the retina, increasing the amount of light available to the photoreceptor cells.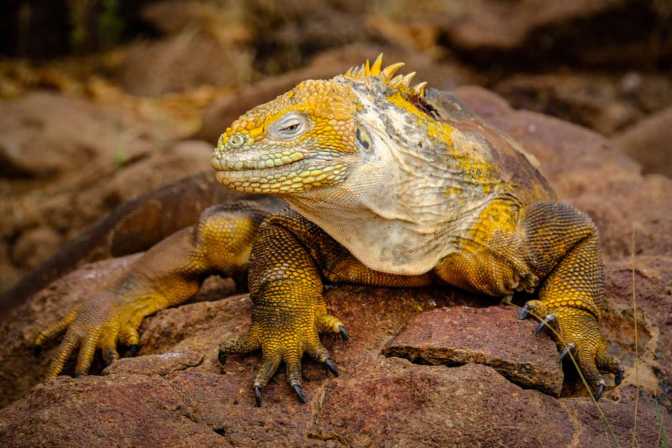 Galapagos land iguanas
About 74 of this endemic iguanas were brought to North Seymour from Baltra, by Captain Hancock in 1934. Since they were struggling there with several introduce animal. He never came back to see how they were doing. But this action save them from extinction. Only two males survive in Baltra once the US army gave back this island to Ecuador. Baltra was used for eight year as an strategic base in the South Pacific to patrol the Panama Channel. In 1981 the iguanas returned to Baltra, once that the GNPS eliminated all the large introduce goats, they seem ok, but the breeding success was almost zero, because of the cats, rats and ants. In 2014 Baltra was one of the first island to be declared cats free, after 10 years of survey since the elimination of this species. The rats and ants were controlled, and nowadays is quite common to see land iguanas in Baltra.
North Seymour
JP47+4R Seymour, Ecuador
---
Travel Tip
North Seymour loop path will be about 2 km or 1.2 mile.  Bachas, the two beaches walk are about 1 km (0.6 mile)
We strongly recommend to protect yourself from the sun, even if you have a cloudy day, in out latitud the perpendicular sunlight could still burn your skin. Use longslives, sunglasses and huts. The best way to use the sunscreen is putting in the morning on your dry clean skin and reused every 2 to 3 hours. Don't forget to drink enough water, but consider that we don't have washrooms on the visit sites. 
For the snorkel during the cold season (June to November) try to bring or rent a wetsuit. The best option is a 2.5 mm. During sailing, keep your eyes in the water you might see sea birds, jumping rays or even whales and dolphins
Information
Tour details.
Only logged in customers who have purchased this tour may leave a review.