Basic Santa Cruz Island Tour
This beautiful island is home to many different species. Almost all species that can be found in the Galapagos can be observed on Santa Cruz. You can find many finches playing around you while waking on the trails or even visit the giant tortoises in their natural habitat.
Meals
3 Breakfasts
3 Lunch
3 Dinners
Key Features
Snorkeling with sea animals
Description
The heart of the Galapagos Archipelago is Santa Cruz Island, it is a magical place, with endemic forests, where giant tortoises roam freely, where your experience of nature is combined with the friendliness of its people. Santa Cruz Island, being a populated island, has a complete and varied offer of tourist services for all tastes, accommodations, restaurants, travel agencies located near the sea or in the upper part, they will be ready to offer you a great experience during your visit to the islands.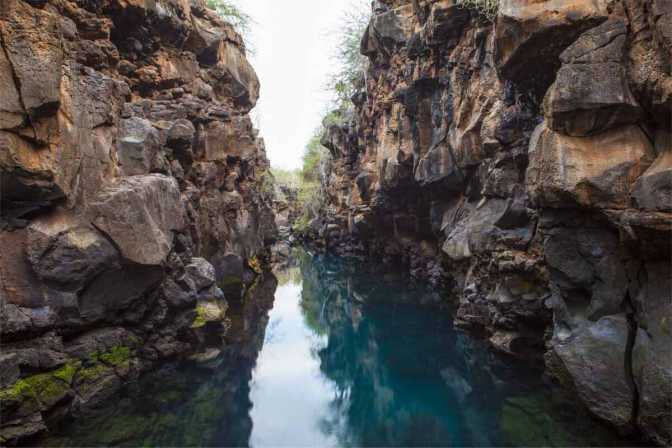 Las Grietas
Las Grietas is an impressive rock formation bathed by the crystal clear water of the ocean. Getting there requires only a short and rewarding walk from Finch Bay. The path crosses mangroves, an old salt mine and landscapes full of Opuntia cacti, an authentic Galapagos species.
The transparency of the water allows snorkeling to be one of the favorite activities of tourists. The places where you can practice this activity are: Playa de la Estación, Playa de Tortuga Bay, Playa de los Alemanes, Las Grietas, Bachas, Pinzón, among others.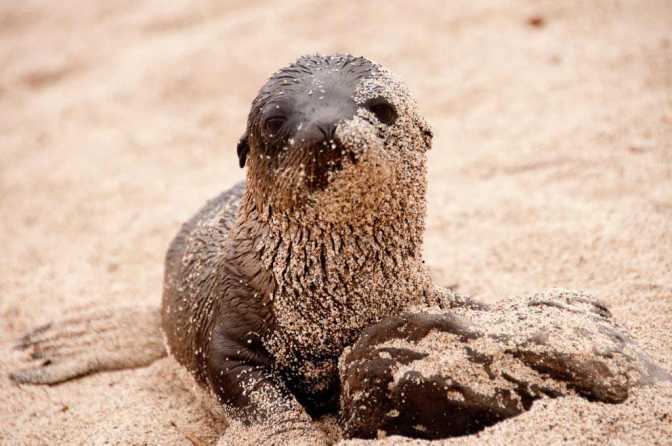 La Loberia
La Loberia is a coral sand beach that has been named for the large number of sea lions that rest on its rocks and sand. It is one of the places where you can practice surfing.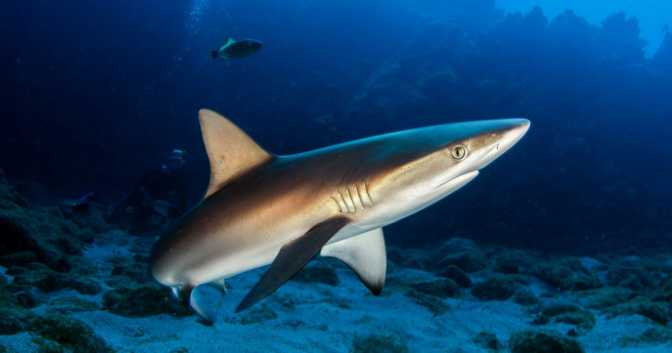 White tip shark
Also known locally as "Tintorera" (Triaenodon obesus) is one of the most common sharks in the tourist sites. It is the only shark that is able to stop swimming without dying, perhaps because it is the only member of his genus. This shark is normally considered inoffensive, since is more active at night and is very selective about their preys: reef fish. The round head and the white tips on the back and tail fins made it easy to recognize.

Quito International Airport
Aeropuerto Internacional Mariscal Sucre, Quito, Ecuador
Baltra Airport
Aeropuerto Ecológico Galápagos Seymour (GPS), Seymour, Ecuador
Santa Cruz Island
Isla Santa Cruz, Ecuador
Tortuga Bay Beach
Galapagos Beach at Tortuga Bay, Tortuga Bay, Puerto Ayora, Ecuador
La Loberia
La Loberia, Ecuador
Las Grietas
Las Grietas, Puerto Ayora, Ecuador
---
Travel Tip
Depending on your nationality, you'll need a valid passport and may also need visas to enter Ecuador. Please check this well in advance of your trip departure date. Also, COVID restriccions for the Galapagos Islands are changing according to specific situations. Please check with us before traveling.
Information
Tour details.
Departure

Santa Cruz Island

Departure Time

10:00 am
11:00 am
12:00 pm
1:00 pm

Return Time

7:00 am
8:00 am
9:00 am
10:00 am

Included

Ferry boat trip between the islands you choose

5 -7 mm wetsuit, regulator, BCD, mask, fins, boots, hood, gloves, weigh belt and 12 lt. air tank

Not Included

Other activities that aren't detailed in the itinerary
Only logged in customers who have purchased this tour may leave a review.