Walk with Giant Galapagos Turtles Tour
Giant tortoises, definitively are the giant cherry of this cake, these peaceful creatures were capture to almost extinction, but thanks to conservation action of the Galápagos National Park, their populations are under recovery, and you can enjoy them in their natural habitat, but also explore one of many lava caves in this outing.
Key Features
Santa Cruz Giant Tortoise
Description
Santa Rosa is 22 km or 13,7 miles from Puerto Ayora and 30 km or 18,6 miles from the Itabaca Channel. This was the first Ecuadorian village been established in Santa Cruz Island, most of the first families came from Tungurahua (a central province of Ecuador) after one of the strongest earthquakes in our history. Nowadays it is home for about 1,000 people, who work in cattle ranches, agriculture combine with tourist, since in this area we have about 5,000 giant tortoises (Chelonoidis portery) one of two endemic tortoises in this island. This animal can be observed inside private properties and public roars, since they are mostly vagrants, moving freely looking for food.  The numbers of tortoises depend on the season, normally they start walking down to the arid area at the end of February for nesting. However not all the tortoises go every year.
The Galapagos National Park Service allowed that local farmers can get an income with tourist that visit their land, as long they respect these wild animals, made the visitors to accomplish de GNP rules and keep under control introduced species of plants and animals in their properties. During this visit you can also walk through a lava tunnel, an impressive geological formation born on fire, about 1,5 million years ago. Don't you worry about bats, even we do have two native species of them, none of these use lava caves as their home.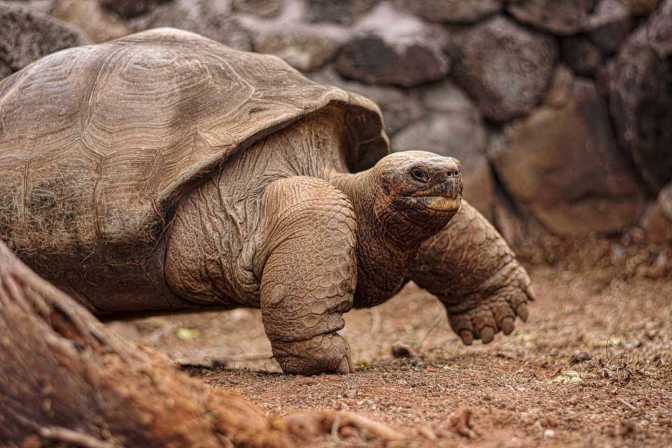 Santa Cruz Giant Tortoises
There are 11 species of Giant tortoises in the Archipelago. 4 species got extinct mostly because of human impact (hunting, introduced species, habitat destruction). In Santa Cruz we have two endemic species: Chelonoidis porteri y Ch. donfaustoi. Both were dramatically reduced. The original population size of the Ch. porteri was about 40,000 individual, less than 500 survived, thanks to the breeding captivity program nowadays we have about 5,000 individuals. A life span of giant tortoises in nature is a mystery, however by zoo experiences we can tell that they can reach 175 years old.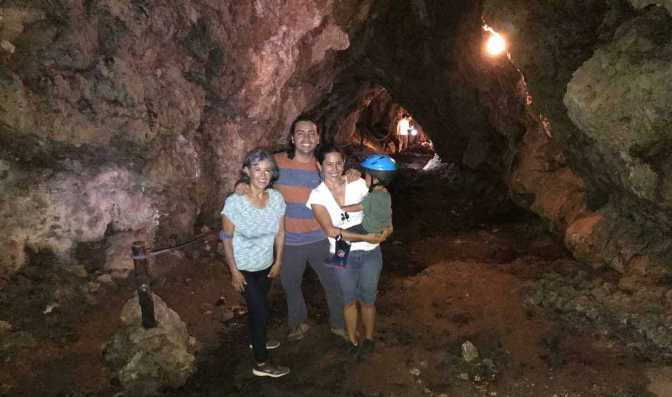 Lava Tunnel
Every hill of the island had been produced at least one eruption, then imagine this river of warm lava traveling downhill, melting the soil and getting cool down on the surface, this eventually forming a crust and keeping insulate the warm lava inside. Once the eruption was over the empty tunnel is left behind.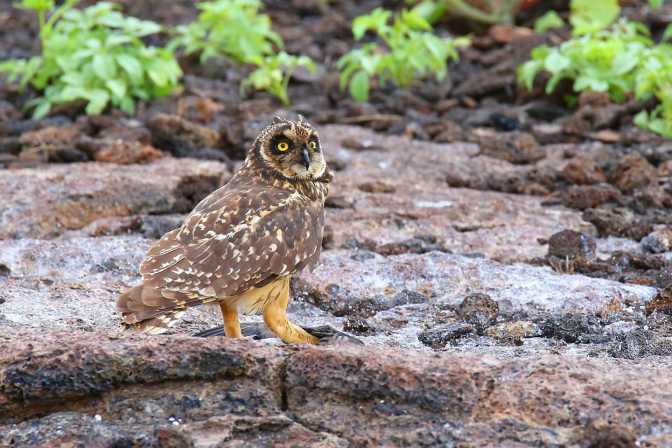 Barn Owl
The barn owl is a nocturnal animal, normally prey on rats, during the day time they look for dark places to sleep, like the entrance of lava tunnel or a roof of a human house. Barn owls normally establish a territory that sometimes overlaps with their neighbors. This animal is a very important pest control.
Tortoise Visit and Lava Tunnel
Giant Tortoise
8HJF+F7 Puerto Ayora, Ecuador
Galapagos Highlands
---
Travel Tip
You should wear light pants, close shoes or at least socks (to wear the rubber booths) and to bring a rain jacket, insect spray and water protection for your cameras.
Information
Tour details.
Only logged in customers who have purchased this tour may leave a review.