Seymour & Plazas Full Day Tour
Come and meet a wonderful island located north of Santa Cruz, home to one of the impressive colonies of different species of animals such as frigatebirds, blue-footed boobies carrying twigs, spectacular marine iguanas walking by your side and you will even observe the best waves of the islands hitting a rocky beach where young sea lions often surf here, an extraordinary adventure not to be missed.
Description
North Seymour Island is a small land mass located an hour away from the Itabaca Channel on the north side of Santa Cruz. This rocky island is home of one the most impressive colonies of different species of animals. While exploring the island you will find great frigate birds that during courtship they spend hours handing nesting materials to each other. While around you will encounter some blue footed boobies cleaning the ground and transporting some twigs here and there, but never actually construct a nest. The area where the eggs are laid is marked by a ring of white guano. Heading along the shore, you traverse a wide expanse of sand criss-crossed with marine iguana trails. These reptiles nest here, so be careful where you tread. Some of the islands's finest waves pound a boulder beach on your left; young sea-lions often body-surf here. Looking west, there are good views of different islands.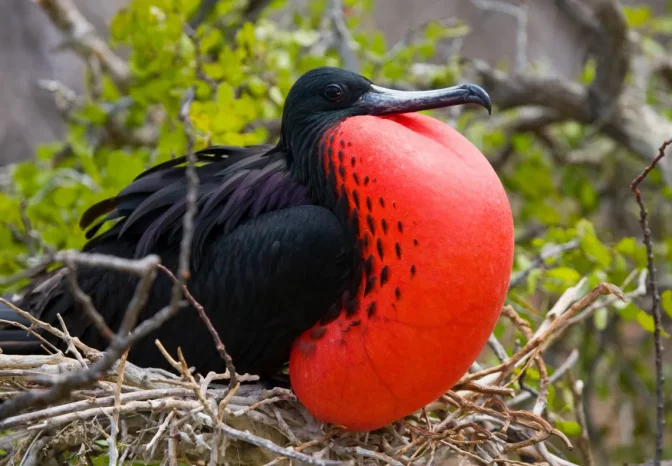 Frigate Birds
The Galapagos frigatebird is one of the iconic species of these islands, mainly due to the characteristic of its red boche, they can spend days and nights in the air and because they have an exceptionally large wingspan; in fact, the largest ratio is its wingspan to body weight of any bird in the world.
The Galapagos blue-footed booby is the undisputed comedian and clown of the islands. These amazing seabirds amuse themselves and entertain visitors with their hilarious antics and their famous blue feet.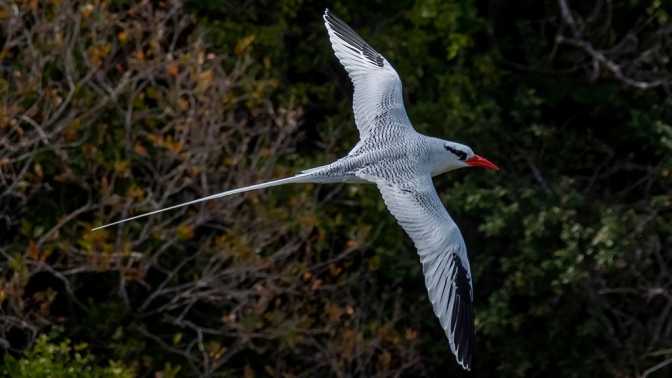 Red-billed Tropicbirds
It surprises visitors to Galapagos with its spectacular appearance. Its graceful long tail streamers, bright red beak, and black eye mask all come together beautifully, making the red-billed tropicbird a very photogenic character.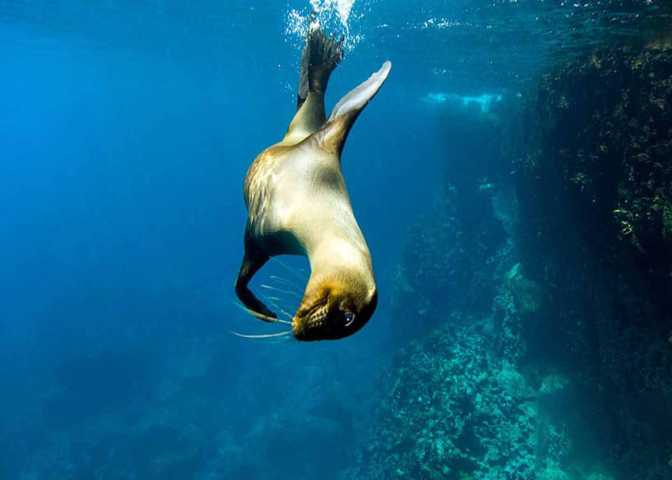 Sea Lions
This coastal animal, which is generally playful and curious, measures between 1.5 and 2.5 meters and spends most of its time near the coast. It's capable of diving to depths of 350 meters and can stay underwater for up to ten minutes. It feeds on a wide variety of fish, but above all sardines, but also octopuses and crustaceans. A single male care for many females and spends much of his time defending his territory from other males. Females have one calf per year; with a gestation time of 11 months. The young of this species have different barks, in this way the mothers can differentiate their young when they return from hunting food. This species is listed as endangered by the IUCN.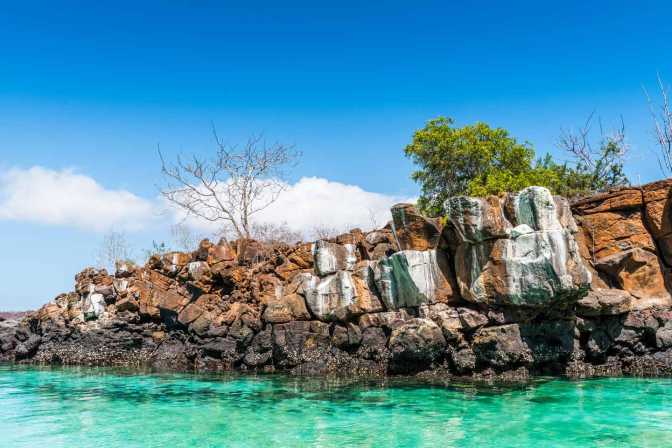 Sloped Cliff Sides
They are cliffs on deep waters, their base is beaten by the waves and the eroded materials are not deposited at their base, but are moved by sea currents. They are cliffs on sandy platforms, they are located outside the reach of the waves and are set back from the coastline.
Seymour & Plazas the perfect Tour
Itabaca Channel
Itabaca Channel, Ecuador
North Seymour Island
North Seymour Island, Ecuador
South Plaza Island
South Plaza Island, Ecuador
Santa Cruz Island
Santa Cruz Island, Ecuador
---
Travel Tip
We recommend to bring a small backpack (waterproof), comfortable walking shoes,
sneakers or rubber soles, shorts trousers, t-shirts, long and shorts leeved shirts,
windbreaker, bathing suit, snorkel equipment hat or cap, sun block, sunglasses, binoculars & camera.
Information
Tour details.
Departure

Santa Cruz Island

Not Included

Other activities that aren't detailed in the itinerary
Only logged in customers who have purchased this tour may leave a review.