Bartholomew & Chinese Hat Island Tour
Get ready to be on Bartholomew Island and admire some of the beautiful landscapes that the island of an extinct volcano and many varieties of volcanic formations with bright colors like red, orange, green and black has to offer. But that's not all, you will also have the opportunity to enjoy the Chinese Hat Island, one of the smallest Galapagos Islands, which has unique and unforgettable views. You will have the opportunity to do activities such as hiking and snorkeling while observing endemic fauna species such as sea lions, Galapagos hawks, marine iguanas, parrotfish, among others.
Key Features
Extinct volcano and volcanic formations

Unforgettable experience and views
Description
During this tour, you will admire the volcanic formations on the Bartholomew and Chinese Hat Islands and some of the endemic fauna species. In addition, you will have the opportunity to do activities such as hiking and snorkeling, and walk on sandy beaches. This will be an incredible and unforgettable experience with amazing views.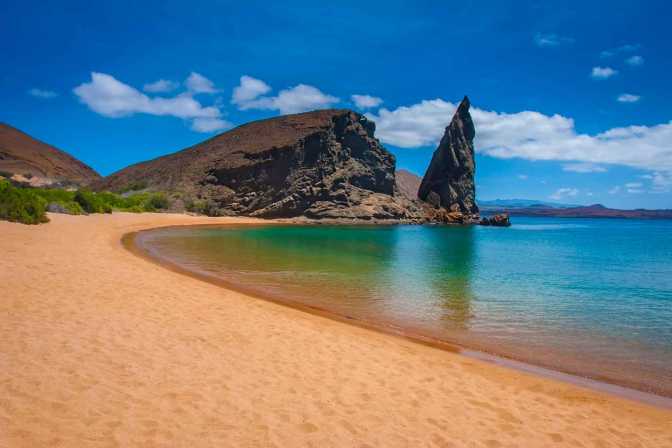 Bartholomew Island
Bartholomew is a small Galapagos Island located 18 miles northwest of the Itabaca Channel. It's considered one of the best snorkeling sites in the central Galapagos region, a swim at the foot of the Pinnacle Rock and around, its base is the most important deep-water snorkel with many different species of parrot fishes, marine turtles, sea lions and sometimes Galapagos penguins.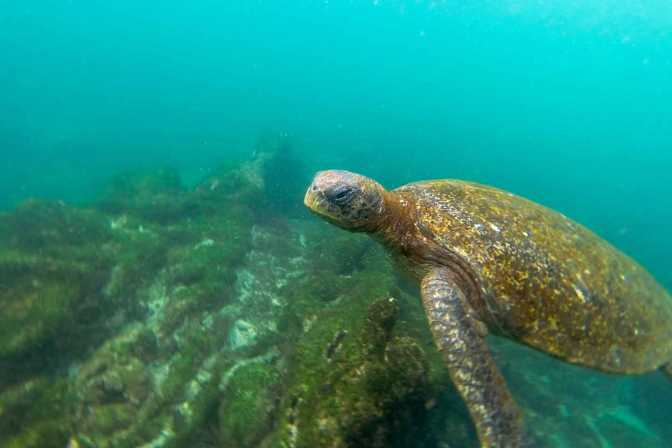 Galapagos Green Sea Turtle
This subspecies of the green sea turtle, which can only be found in the tropical and subtropical waters of the Pacific Ocean, is an endemic specimen of the Galapagos archipelago. It feeds on various species of algae, seagrass, aquatic plants, jellyfish and crabs. They live approximately 80 years, measure up to 84 cm and weigh between 150 and 200 kg. Every two or three years the females arrive at the beaches of the western region such as: Fernandina Island, Isabela Island, Baltra Island, Santiago Island and Santa Cruz Island for their nesting stage, which runs from December to June. Both sexes incubate in soft, whitish shells for 30 to 90 days. In nesting season, turtles average between 1 and 9 clutches. This would correspond from 75 to 200 eggs; the hatching of neonates occurs from June to July. Seeing the Galapagos green sea turtle is a spectacle of nature, its beautiful colors contrast with the vibrant hues of the sea creating a magnificent attraction for tourists.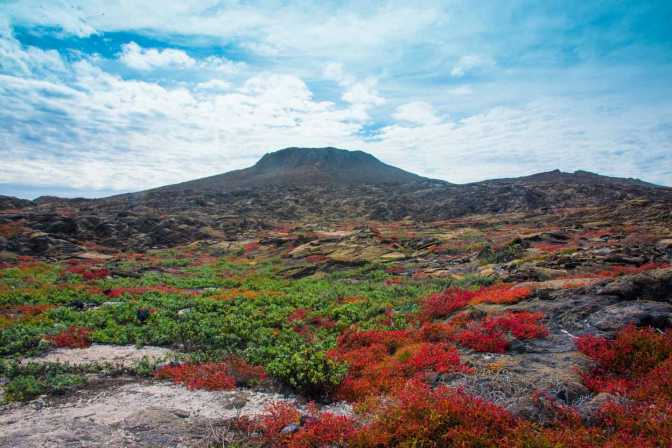 Chinese Hat Island
Is an islet made up of a splash type cone, located near Santiago Island, and surrounded by small splash cones that create a spectacular landscape. Its incredible beach of white coral sand constitutes one of the most beautiful landscapes of the Galapagos Islands. Among the experiences that this island offers are lava formations, splashes, cones and lava tubes. This is one of the most incredible islands for diving and snorkeling.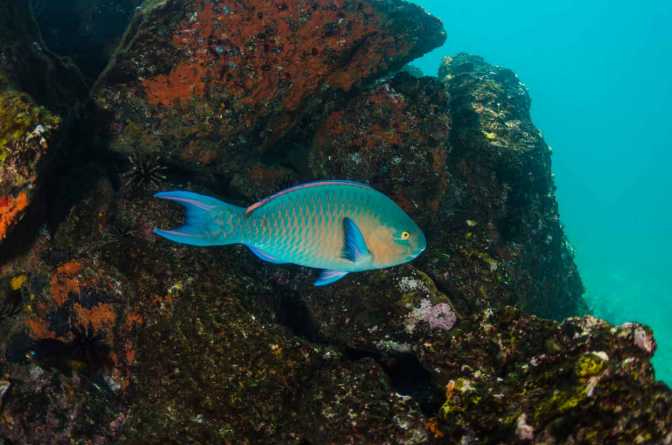 Parrotfishes
The family Scaridae (Parrotfish) is one of the most common fish families found in the Galapagos Islands. Scarus are bony fishes that are described as having robust bodies with large scales becoming larger at the base of the tale. The teeth of Parrotfish are fused together to form beak-like plates in both jaws, hence the name Parrotfish. They have a single uninterrupted dorsal fin and large cycloid scales. Parrotfish are known to be omnivores that will feed on pretty much anything from living corral to rotting fish carcasses. These curious fish are known to be able to change sexes, some species will begin life as males and switch to females (protandry), and others switch from female to male (protogyny, some will change sex in both directions, and others will be both sexes at the same time. There are four main species of Parrotfish found in the Galapagos and their descriptions are the following: Blue Chin Parrotfish (Scarus ghobban), Bumphead Parrotfish (Scarus perrico), Bicolor Parrotfish (Scarus rubroviolaceus) and Azure Parrotfish (Scarus compressus).
Bartholomew Island & Chinese Hat
Bartholomew
Bartolomé Island, Ecuador
Sombrero Chino
66FFJCH8+XJ
---
Travel Tip
To have a better experience during this tour, we recommend you to bring a small waterproof backpack, comfortable walking shoes, shorts trousers, t-shirts, long and shorts leveed shirts, windbreaker, bathing suit, snorkel equipment, a hat or cap, sunscreen, sunglasses, binoculars and a camera.
Information
Tour details.
Only logged in customers who have purchased this tour may leave a review.