North Seymour Discovery Dive Tour
No dive experience required! Enjoy the spectacular underwater wildlife of the Galapagos Islands with this Discovery Dive. Great place for divers from beginner to intermediate levels. North Seymour is a good spot for drift diving due to its moderate to strong currents. Dive by a beautiful rock reef to reach the sandy bottom while experiencing the company of white/black tip sharks, sea turtles, rays and many other fishes. Discovery dive in North Seymour will show you this paradise in the Galapagos islands.
Key Features
Encounter sharks and marine wildlife
Description
North Seymour Island is a small island located just north of Baltra airport. The site topography will show a 8 meters steps decline to come to an interesting rock reef before reaching the bottom at 16 – 18 meters underneath.
The visibility in this dive is regularly between 9 and 15 meters. This dive spot gives beginners a good chance to experience un underwater world and enjoy the beautiful wildlife that the Galapagos Islands treasure.
Green turtles like to hang around this site so there is a good chance to see them in this site swimming and eating around.
It is also a good opportunity to see sharks like the white tipped, galapagos sharks, black tipped and if you are lucky you might have a chance to see a hammerhead passing by with the current.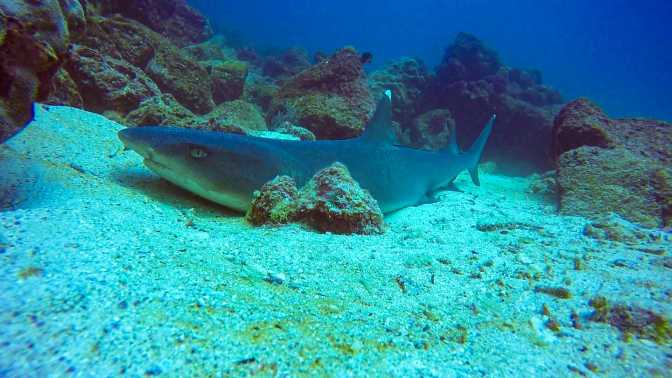 "Galapagos sharks"
There are around 30 species of sharks found in the Galapagos islands, neither of them harmful to humans. The most common sharks found in the islands are; the white-tip reef shark, black-tip reef shark, two different species of hammerheads, the Galapagos shark, the grey reef shark, the tiger shark, the hornshark and the whale shark. Sadly the population of sharks is decreasing every year despite the full protection the have in the Galapagos National Park.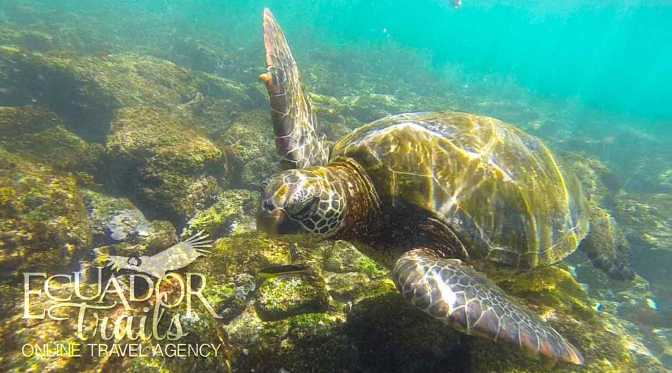 "Galapagos Green Turtle"
It has its name for the green color of their green color of its body. This turtle is seen in few places of the world, they are the only species to nest in the Galapagos Islands. Some researches have shown that the colony living in Galapagos is the largest in the East Pacific. The Green Turtles can swim as fast as 40 km/h. The adult turtles are primary vegetarians while the juveniles eat pretty much everything.
North Seymour Discovery Dive
North Seymour Dive Spot
HPX8+5J Seymour, Ecuador
---
Travel Tip
The weather in the islands is generally warm but there are some months where we have some rain, so it will be a good idea to bring a rain jacket. Of course don't forget your sunscreen, swimsuits, sunglasses, comfortable shoes and of course a camera. If you liked the experience and want to do an extra immersion you can pay extra directly to the guides.
Information
Tour details.
Only logged in customers who have purchased this tour may leave a review.