North Seymour Dive Tour
This dive is considered middle to easy, since you will have some current. It take place in the Southeast point of North Seymour. This site can be combine with a second dive in: Gordon Rocks or in another point of the North Channel (Mosquera or Baltra). This dive includes pelagic wildlife and good chances to see several species of sharks.   
Description
This site can be a little more challenging that North Plaza, currents goes through this point in North Seymour which slopes downwards, interrupted only by a rocky platform with small caves, where some animals like to rest. The dive goes along the coast and then going into the blue ocean to find pelagic animals with the flow of the current. There is a good opportunity to find  cleaning stations, where big animals as sea turtles enjoy a "spa" sesion. There are two sea lions colonies nearby, so sea lions will be on the head of the list, follow by white and black tip sharks, Galapagos sharks, hammerhead sharks, large schools of almaco jack fish, rays, barracudas, marine invertebrates and more.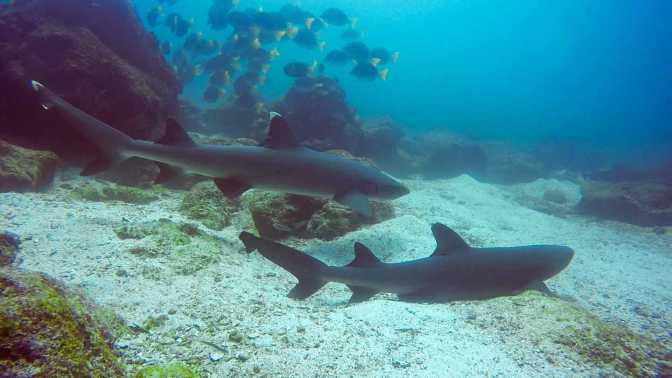 Galapagos shark
Carcharhinus galapagensis, this species is widely distributed on tropical and subtropical waters, but mainly in islands. The shape of the head is fusiforme, not as pointed as the great white shark. In the Galapagos island this shark is quite common to see, especially around anker ships at night. It is a top predator with a maximum size of 3 m (9.8 ft). It is consider a "caution" shark, it mean that you just observe, but don't go after it. This shark is more active during the last hours of the afternoon and at night. Its diet includes sea lions, fur seals, and large fish, including some times another sharks.

Almaco Jack fish
Also known as the longfin yellowtail (Seriola rivoliana). They are perhaps one of the less elongate fish among the jacks. They are a little dark with pale amber or olive stripes down their sides. Their upper bodies and lower fins usually are dark brown or dark blue-green. The belly is much lighter. They normally don't form large schools, but in Galapagos you can see hundred of them together. One unusual behavior is the way they crean their bodies from parasites, rubbing against shark in movement, sometimes they do the same with divers, probably mistakenly confuse them with sharks.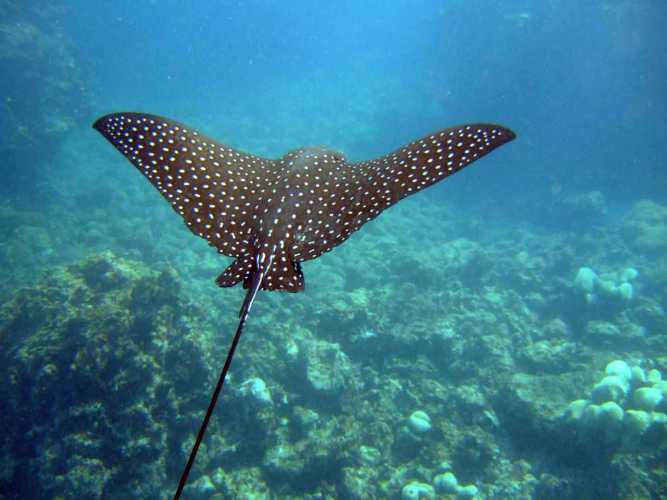 White-spotted eagle ray
Aetobatus narinari is an easy ray to identified, triangle shape, a prominent "dolphin" nose, and a long thin tail. The upper body is grey-brown with small white spots and white underneath. It can be found alone of in groups, normally small groups. Spotted eagle rays feed on small fish and crustaceans, and use their snouts to dig on the sand bottom to look after their preys. These rays are commonly observed leaping out of the water, especially during the mating. They may jump out of the water and flip over as the Mobula rays. On the tail they got a weapon, a spine that can cause a painful wound, in a defense mode they can use their tails as a whip.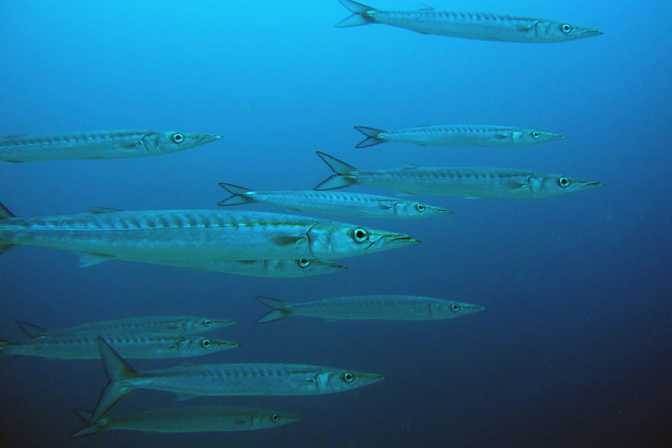 Barracudas
Is a elongate sharp teeth fish, with snake apperease. As youngs, they work together on large schools to be a successful opportunistic predator. Most of the adults play solo, their diet can include different species of fishes. They might compete for a prey with large predators as mackerels and even dolphins. They can also act as scavengers. It had been few reports of barracudas biting humans, but probably by mistake. They are not consider dangerous to swim or dive with.
Puerto Ayora
Puerto Ayora, Ecuador
Itabaca Channel
Itabaca Channel, Ecuador
North Seymour
North Seymour Island, Ecuador
Gordon Rocks Dive Site
Gordon Rocks Dive Site, Ecuador
---
Travel Tip
The day before your trip, you need to attend to the dive center to sign the release form, to get more information of your trip and to try the gear and equipment. Don't forget to bring your dive certificate.
For the trip, we recommend to wear comfortable cloth, enough sun protection. It's better to wear your bathing suit on and to bring extra dry cloth to change. Don't forget your water approf camera and water bottle. 
Information
Tour details.
Departure

Dive Center in Puerto Ayora

Not Included

Nitrox tank (you need to present a certification)
Only logged in customers who have purchased this tour may leave a review.