The Best of Three Islands
Enjoy your stay in the enchanted islands of Galapagos, visiting three of the fourth inhabited islands: Santa Cruz, Isabela and San Cristobal. Let yourself be captivated by the wonderful and extensive species of endemic flora and fauna that this earthly paradise contains.
Meals
4 Breakfast
2 Snacks
2 Lunch
Description
This tour will allow you to visit some incredible places in Santa Cruz, Isabela and San Cristóbal Islands. You will make memorable experiences, for example, while you are hiking near the giant Galapagos tortoises, or while you are snorkeling with the curious and playful sea lions. In addition, you will learn about the volcanic origin of the islands and you will enjoy some beautiful beaches and views of these lovely islands.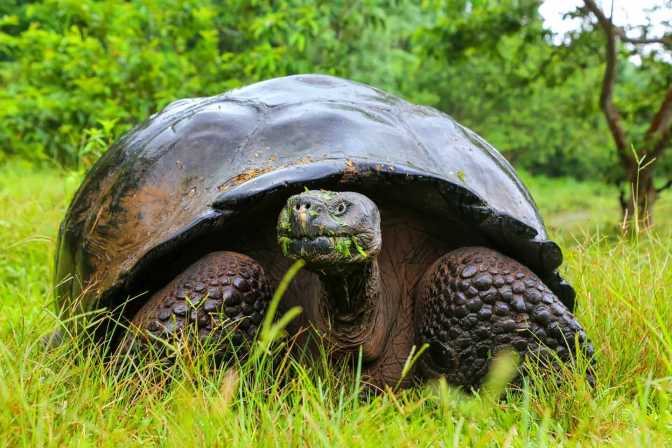 Galapagos Giant Tortoise
This endemic species of the Galapagos Islands is the largest species of tortoise that exists on Earth. It can weigh up to 300 kg and is believed to live around 100 years. They feed on cactus fruits, herbs, leaves, and lichens. They have no natural predators, but their eggs and hatchlings are preyed upon by introduced species such as pigs, rats, and dogs; one of the reasons why they are currently in danger of extinction.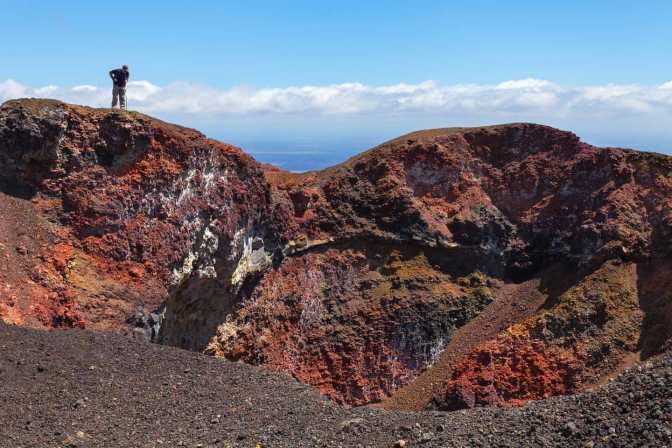 Sierra Negra Volcano
The Sierra Negra Volcano is located 30 minutes away from Puerto Villamil, Isabela Island. It is the only volcano that can be hiked up to its crater in the islands, with no restrictions but to be in the company of a certified naturalist guide. Climbing 1,124 meters (3,687 feet) above sea level to the largest crater you can see in the islands and enjoying the magnificent views from the top of this majestic volcano, is an experience that is definitely not to be missed.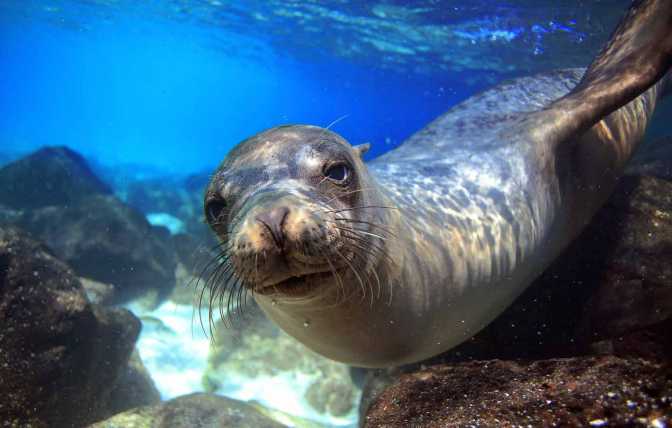 Galapagos Sea Lion
This coastal animal, which is generally playful and curious, measures between 1.5 and 2.5 meters and spends most of its time near the coast. It's capable of diving to depths of 350 meters and can stay underwater for up to ten minutes. It feeds on a wide variety of fish, but above all sardines, but also octopuses and crustaceans. A single male cares for many females and spends much of his time defending his territory from other males. Females have one calf per year; with a gestation time of 11 months. The young of this species have different barks, in this way the mothers can differentiate their young when they return from hunting food. This species is listed as endangered by the IUCN.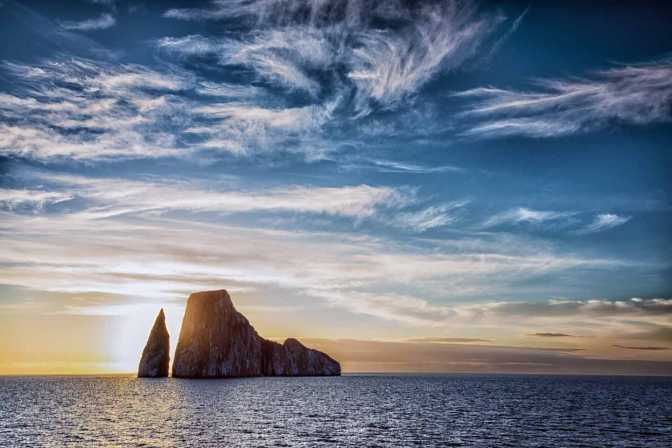 Kicker Rock
In Spanish, "León Dormido" is a rock formation in the middle of the ocean in front of Stephens Bay, about an hour and a half northeast of Puerto Baquerizo. Its name is due to its resemblance to a sleeping lion. The island is a towering, vertical, steep-walled tuff cone that has been split in two by erosion. Its spectacular cliffs and the channel between the rocks are home to precious wildlife such as blue-footed boobies, frigatebirds, sea lions and red-billed tropical birds on the surface. Beneath the surface, it is a great habitat for white tip sharks, large rays, pelagic and reef fish, sea turtles and other incredible species. It is the perfect place to enjoy activities such as diving and snorkeling.
The Best of Three Islands
Santa Cruz Island
Santa Cruz, Ecuador
Isabela Island
Isabela Island, Ecuador
San Cristobal Island
San Cristóbal, Ecuador
---
Travel Tip
Don't forget to bring a rain jacket, remember that you will be visiting the coldest spots of Santa Cruz Island. Of course, don't forget your sunscreen, sunglasses, comfortable shoes, trail snacks, a bottle of water, and a camera to better enjoy this tour of the Santa Cruz, Isabela and San Cristóbal islands.
Information
Tour details.
Departure

Airport pick up.

Not Included

Other activities that aren't detailed in the itinerary
Only logged in customers who have purchased this tour may leave a review.