Santa Fe Island Snorkeling and Fishing Experience
Santa Fe Island, also known as Barrington, is one of the oldest islands of the Archipelago (minimum 4 million years). A  natural small island with a non-volcanic origin that has a beautiful shallow bay with two sandy beaches and one islet. And where you can observe a great variety of endemic fauna and flora species like prickly pear cactus, pale iguana, sea lions, Galapagos hawks, Galapagos mockingbirds, whitetip reef sharks, sea turtles, manta rays and other species. It´s a perfect place to enjoy activities such as snorkeling or diving in crystal-clear turquoise waters and trekking.
Key Features
Non-volcanic origin island

Crystal-clear turquoise waters

Unforgettable experience and views
Description
On this tour, you will visit the unique Santa Fe Island, a beautiful small island with crystal-clear turquoise waters, forests of giant cactus and dry vegetation, and a huge variety of endemic fauna and flora species. But also, you will visit Escondida Beach, also known as Hidden Beach, a cool place with a great variety of marine life like white tip reef sharks, golden rays, sea turtles and a great diversity of fishes, where you can have a good time doing snorkel.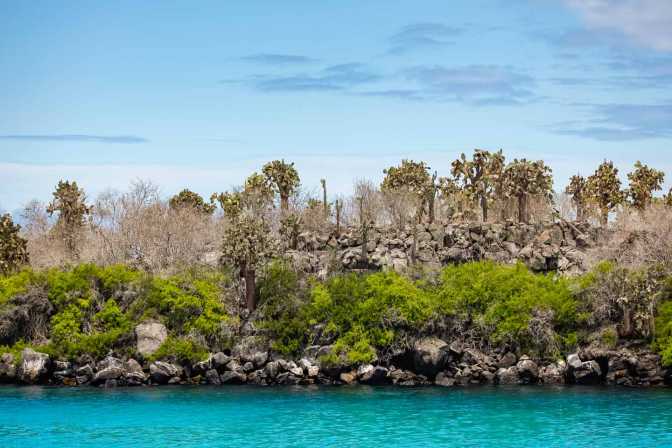 Santa Fe Island
This small island of non-volcanic origin located between Santa Cruz and San Cristobal Islands, is the habitat of a great variety of endemic species of wildlife from all the Galapagos Islands. This island is very popular among visitors due to the combination of its scenic beauty composed of crystal-clear turquoise waters and forests of giant cactus and dry vegetation such as palo santo, which makes it a splendid place for activities such as trekking, snorkeling and diving.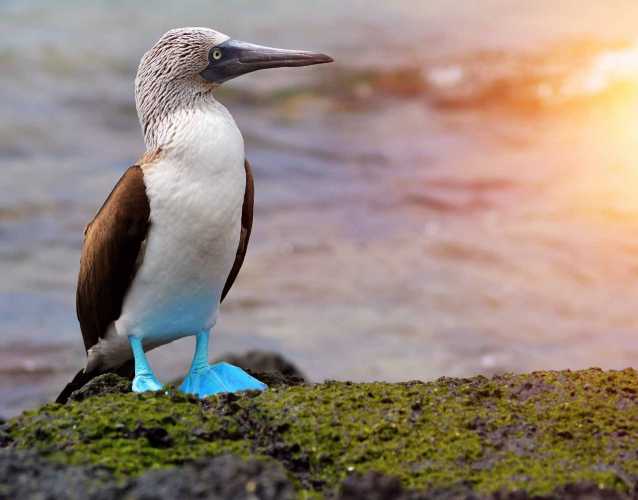 Blue-footed boobies
They are an endemic species of the Galapagos Islands. They measure between 75cm and a meter in height and weigh between 1 and 2 kilos. It has bright blue legs and brown wings. The feathers on the main part of its body are white and its neck has darker gray feathers. Its back has brown feathers and it has a sharp, dark gray beak. The skin on his face is a bluish-gray color. His white eyes with large black pupils give him an intense look. They nest at any time of the year, the laying is generally of a single egg or, sometimes 2 or 3, which incubates for 44 days. At birth, their plumage is completely white, as are their legs, because the color they acquire as adults is due to their feeding. They feed mainly on mackerel, anchovies and sardines.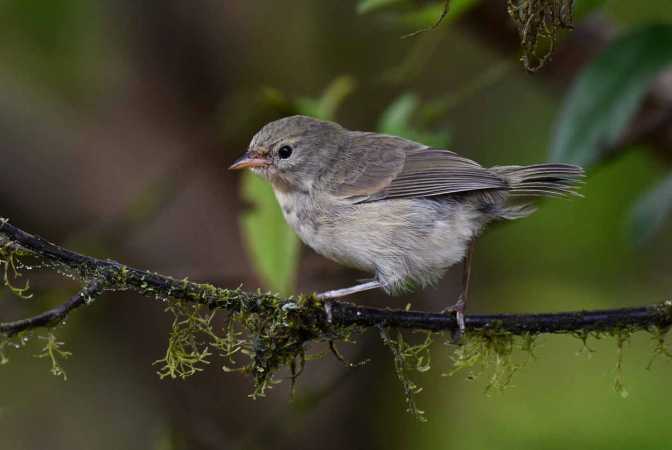 Darwin's Finches
Also known as Galapagos finches, they are one of the truly iconic birds of the Galapagos Islands, all thanks to the work of natural scientist Charles Darwin as these birds played a huge role in his groundbreaking Theory of Evolution. Today Darwin's finches offer visitors a rare first-hand view of evolution and the complex workings of nature. On the islands, there are more than 500,000 individuals of the Galapagos finches divided into 13 different species, all endemic to the Galapagos Islands. They all have the same size between 10 to 20 cm. The curious thing lies in the shape and size of the beak, the same ones that are adapted to the different food sources.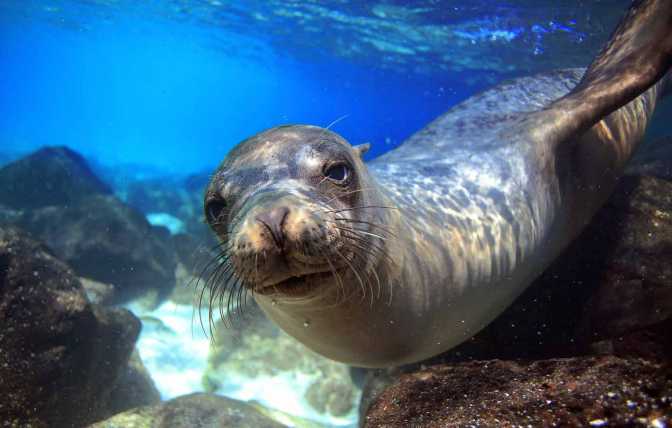 Galapagos Sea Lion
This coastal animal, which is generally playful and curious, measures between 1.5 and 2.5 meters and spends most of its time near the coast. It's capable of diving to depths of 350 meters and can stay underwater for up to ten minutes. It feeds on a wide variety of fish, but above all sardines, but also octopuses and crustaceans. A single male care for many females and spends much of his time defending his territory from other males. Females have one calf per year; with a gestation time of 11 months. The young of this species have different barks, in this way the mothers can differentiate their young when they return from hunting food. This species is listed as endangered by the IUCN.
Santa Fe Island & Hidden Beach
Santa Fé Island, Galápagos Islands, Ecuador
---
Travel Tip
To have a better experience during this tour, we recommend you to bring: a wetsuit, a swimsuit, comfortable walking shoes, shorts, a shirt, a windbreaker, a hat or cap, sunscreen, sunglasses and a camera.
Information
Tour details.
Only logged in customers who have purchased this tour may leave a review.