Puerto Ayora Bay Tour
This is a half day tour includes a boat trip, a certified guide, snorkel gear and a snack. You visit five different locations in the Academy Bay. It will normally include at least one snorkel and two hikes.
Key Features
Galapagos Sea Lion Colony

Galapagos Green Sea Turtles
Description
The name of the Academy Bay is because in 1905 The California Academy of Science came to Galapagos Islands to develop a 17 months expedition. The Academy ship spent a long time in this bay, so everybody star calling the Academy Bay. On this turquoise water bay take place the most crowd town of the islands: Puerto Ayora, with about 25,000 inhabitants. In the area we do have two points: Punta Estrada to the West and Punta Nuñez to the East, nearby Punta Estrada there is a small bay (Devine Bay) y the mouth of the bay there is a small islet Caamaño know as "La Lobería", the main sea lion colony nearby. 
This tour begins in the main duck of Puerto Ayora, where you get on board of a small speedy boat. The first visit is "La Lobería" where you can snorkel with sea lions, especially during the calm sea season (from December to may). However, there is a second snorkel opportunity in a protected area: Punta Estrada, where you can swim with sea turtles, white tip sharks and tropical fish.  Then you will disembark in a wooded duck in the Divine Bay to go for your first walk (about a 1km, back and forth) to "La playa de los perros" the dog's beach, nothing to do with our domestic friend, it is a common name of type of crab that used to be abundant.  In the same bay, you will disembark in a different duck to a hike (1 km) to "Las Grietas", where you will have the opportunity to swim or snorkel in a deep-water crack, the water normally here is colder than the ocean since it is a mix between rain water and the sea. You can find some big parrot fish and other interesting creatures on the rocks, sometimes even small marine iguanas. Be aware that you will have limited time here, since this site is a recreational place with a high demand, especially on holidays and the high season.  The embarkation points to get back to town is in the Academy bay, in the way you can also enjoy some time on "Los Alemanes" beach, the hike to get there will be about 1,5 km.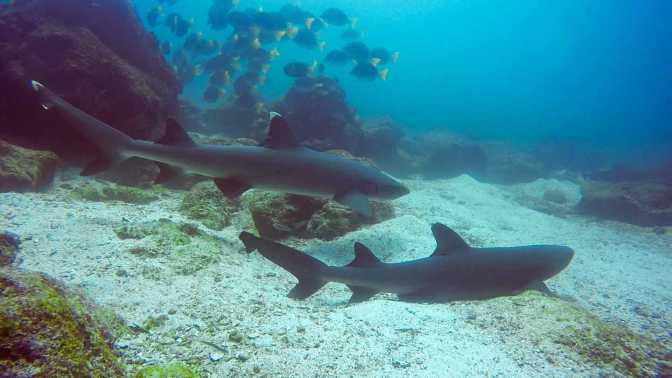 White tip shark
Also known locally as "Tintorera" (Triaenodon obesus) is one of the most common sharks in the tourist sites. It is the only shark that is able to stop swimming without dying, perhaps because it is the only member of his genus. This shark is normally considered inoffensive, since is more active at night and is very selective about their preys: reef fish. The round head and the white tips on the back and tail fins made it easy to recognize.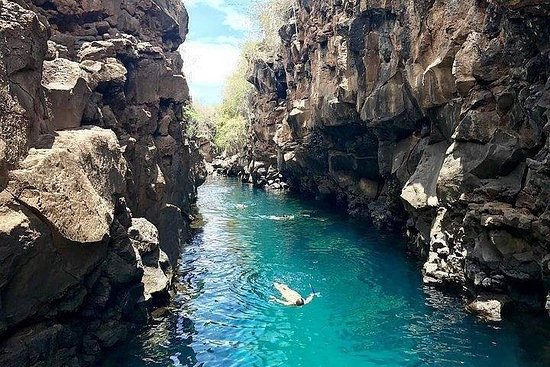 Las Grietas
Around 700,000 years ago, Santa Cruz has been cut by east-west faults, that have produced a number of graben structures. A graben is a down-dropped block bounded by faults. This kind of structure is characteristic of extensional deformation of the crust. Las Grietas is an small example of this faults, a bigger example is the Itabaca Channel.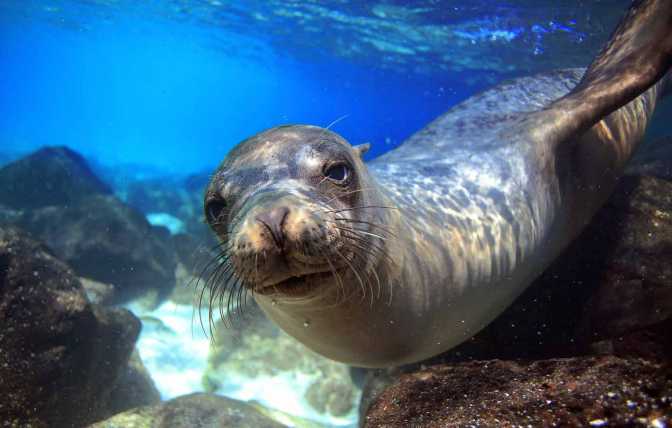 Galapagos sea lion
Also known as "Lobo marino común or lobo de un pelo" (Zalophus wollebaeki) is an endemic species, and one of the most charismatic animals in the Galapagos. This sea mammal is widely distributed, it breeding colonies are located on sand and rocky beaches nearby shallow waters. There are evidences that the sea lion females can be diurnal, nocturnal and even intensive (24 hours) divers. The food demand is very high for them, since they spend a lot of energy in a long breeding season (6 months), most of the pups milk for more than two years. It is very common to find them asleep on ducks, benches or rocks. Please don't wake them up, they really need napping.


La Loberia
La Loberia, Ecuador
Las Grietas
Las Grietas, Puerto Ayora, Ecuador
---
Travel Tip
We recommend for this visit to wear your bathing suit underneath your cloth and bring extra dry cloth (short and t-shit for changing), close shoes or water shoes are fine for this excursion, avoid to wear bright colors like yellow or pink, since the paper wasp (an introduce insect) could find you attractive.
Information
Tour details.
---
Meeting point
Meeting point at the docks
Only logged in customers who have purchased this tour may leave a review.