Floreana Island Dive Tour
Floreana, also known as Santa María or Charles, is the southwestern island in the archipelago. There are three dive sites: Cormorant Point, Champion Islet and Enderby Islet. Most of them with rocky reefs and good chances to enjoy the curious sea lions, to see several pelagic species and even to drift dive with occasional currents.
Description
To get to Florean Island you have to sail for about 2 hours. In Champion there are numerous colonies of Galapagos sea lions, normally your check dive will be in calm shallow waters, and then we will dive on impressive cliffs with colorful vertical walls, where most of the pelagic species appear like tunas, mackerels, sharks and others.
Followed by big rock steps that will take you to shallow waters with good chances to look for lobsters, octopus and whitetip reef sharks. You will end, nearby a breeding group of sea lions (the youngs like to surround divers), in this dive you can also enjoy seeing several corals.
Enderby is a tuff cone with a perfect hill shape, with gentle slopes, and normally surrounded by calm waters where we can look for beautiful red-lipped batfish, sea turtles, more sharks and big fish and rays. Here also you can find the endemic Galapagos Sea Robin.
Punta Cormoran is a part of Floreana Island, and its name nothing has to do with cormorants, in reality, this site was named like that after a boat sunk here. It's a protected place with rock reefs and sand bottom, and it's very close to Devil's Crown, an ancient crater, that works almost like a traffic light in the ocean so the biodiversity of this site is very interesting. Here you will see species like barracudas, sharks, golden cow rays and sea turtles.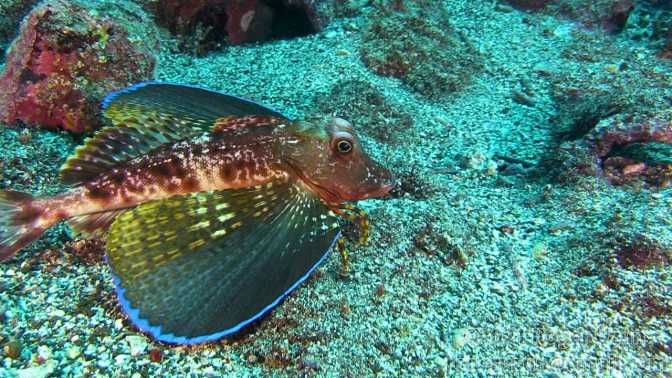 Galapagos Sea Robin
This endemic fish is easy to identify, it can stand on the bottom since uses its fins as legs. The head is depressed but elevated, with two prominent eyes and a medium-sized mouth with red lips. The tail is a fan-shaped caudal fin, and its colors are light brown to grey on the back and white underneath. Size about 25 cm or 9.8 inches. It is usually found on sand or rubble bottoms, the depth range can be wide, but is more common between 10 to 20 m (30 to 60 ft).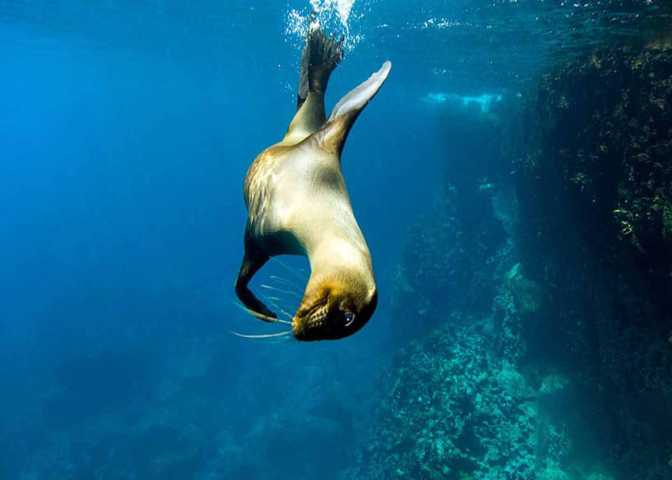 Galapagos sea lions
This marine mammal can dive because of a series of anatomical adaptations, specific dive physiology and behavior. Since the beginning they can hold their breath underwater, but not for a long period of time. The first true dives start normally around the first year. They can store oxygen in their blood cells and in their muscle. The amount of oxygen depends on the animal size, a larger animal can store more oxygen. The administration of oxygen is a key part of dive physiology, the blood circulation will prioritize organs like the brain, the eyes and the heart, while digestion can be completely stopped during a dive, the lungs also collapsed. In longer immersions, they can enter in a deep apnea state, which means lower base metabolism and the breathing reflex suspended.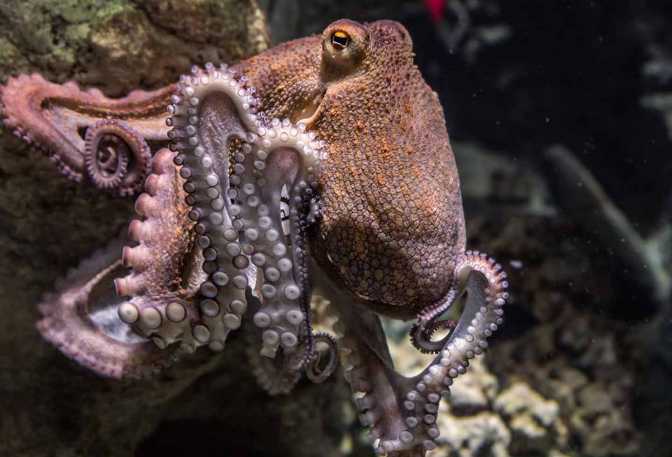 Octopus
Octopus oculifer is one of the most common species in the Galapagos water and is considered an endemic species that habit the coastal ecosystem. Octopus has one of the largest and most complex nervous system and brain in the animal kingdom. The brain is contained in a cartilage capsule. The main sense is the eyes, which not only are complex but works in different ways, some species can detect colors and apparently this ability helps to modify the color of their skin to minimize according to the substrate. The octopus can hear between 400 and 1000 Hz, although most of the hearing takes place at 600 Hz.​ They also have a very good tactile sense. The suction cups have chemoreceptors so they can perceive the taste. The tentacles do not tangle or stick together, because the sensors recognize their own skin.
Floreana Island Dive Tour
---
Travel Tip
The order of the sites will depend on the itinerary authorized by the National Park Service.
Information
Tour details.
Departure

Dive Center in Puerto Ayora

Included

5 -7 mm wetsuit, regulator, BCD, mask, fins, boots, hood, gloves, weigh belt and 12 lt. air tank

Not Included

Nitrox tank (you need to present a certification)
---
Meeting point
Dive Center in Puerto Ayora
Only logged in customers who have purchased this tour may leave a review.