North Seymour & Bachas Beach Full Day Luxury Tour
Come and meet a wonderful island located north of Santa Cruz, home to one of the impressive colonies of different species of animals such as frigatebirds, blue-footed boobies carrying twigs, spectacular marine iguanas walking by your side and you will even observe the best waves of the islands hitting a rocky beach where young sea lions often surf here, also do not visiting a beautiful coral beach calles The Bachas to swim and relax, definitely an extraordinary adventure not to be missed.
Description
North Seymour Island is a small land mass located an hour away from the Itabaca Channel on the north side of Santa Cruz. This rocky island is home of one the most impressive colonies of different species of animals. While exploring the island you will find great frigate birds that during courtship they spend hours handing nesting materials to each other. While around you will encounter some blue footed boobies cleaning the ground and transporting some twigs here and there, but never actually construct a nest. The area where the eggs are laid is marked by a ring of white guano. Heading along the shore, you traverse a wide expanse of sand criss-crossed with marine iguana trails. These reptiles nest here, so be careful where you tread. Some of the islands's finest waves pound a boulder beach on your left; young sea-lions often body-surf here. Looking west, there are good views of different islands.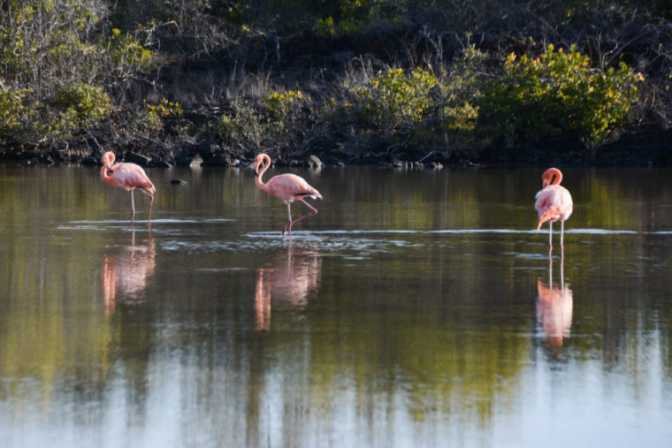 Brackish Lagoons
A brackish lagoon is a natural reservoir of water, separated from the sea and shallow, whose waters are generally salty or brackish. The lagoons that are separated from the sea by a barrier are known as coastal lagoons where flamingos and insects live.
They are cliffs on deep waters, their base is beaten by the waves and the eroded materials are not deposited at their base, but are moved by sea currents. They are cliffs on sandy platforms, they are located outside the reach of the waves and are set back from the coastline.
Flamingos
Flamingos are one of the most amazing and majestic birds around the world. Their color, shape and size are the most striking features of these birds. The Galapagos flamingo does not migrate outside the islands. Observing these birds is a popular activity in those lands.
The Galapagos blue-footed booby is the undisputed comedian and clown of the islands. These amazing seabirds amuse themselves and entertain visitors with their hilarious antics and their famous blue feet.
Coralline Beach
Amazing coral beaches full of soft white sand where various marine and terrestrial animals live, you can rest, relax and swim in the beautiful crystal clear waters of the beach.

North Seymour & Bachas-Birdwatching Experience
Itabaca Channel
Itabaca Channel, Ecuador
North Seymour Island
North Seymour Island, Ecuador
The Bachas Beach
Playa Las Bachas, Ecuador
Itabaca Channel
Itabaca Channel, Ecuador
---
Travel Tip
We recommend to bring a small backpack (waterproof), comfortable walking shoes,
sneakers or rubber soles, shorts trousers, t-shirts, long and shorts leeved shirts,
windbreaker, bathing suit, snorkel equipment hat or cap, sun block, sunglasses, binoculars & camera.
Information
Tour details.
Departure

Santa Cruz Island

Not Included

Other activities that aren't detailed in the itinerary
Only logged in customers who have purchased this tour may leave a review.