Kicker Rock Dive Tour
Get a glimpse of the spectacular underwater wildlife of the Galapagos Islands with this Dive. Leon Dormido in San Cristobal is the best option to discover the most amazing diversity of land and marine wildlife. Also called Kicker Rock, it has become the most sought after sites in the Galapagos Islands. Imagine a dive in this paradise.
Key Features
Rock towers over 150m/500ft tall
Description
The Leon Dormido, also called "Kicker Rock" is a rock formation in the middle of the ocean off Stephens bay, about an hour and a half northeast of Puerto Baquerizo. Leon Dormido has its name because of its resemblance to a sleeping lion. The island is an imposing, vertical, sheer-walled tuff cone that has been divided in two due to erosion. Its dramatic cliffs and the canal between the rocks are home to some precious wildlife like blue-footed boobies, frigatebirds, playful sea lions and red-billed tropicbirds on the surface. Underneath the surface it is a great habitat for Galapagos sharks, Whitetip Sharks, Large Rays, Pelagic and Reef Fish, Sea Turtles, Sea Lions. The perfect place for divers and snorkeling.
Kicker Rock is one of the most visited places for tourists arriving to Galagos through the San Cristobal airport. This discovery dive tour will take you to discover the amazing underworld of the Galapagos islands, no need of a padi licence. Our master divers will give you all the tips and preparation for the summation and they will accompany you all the way.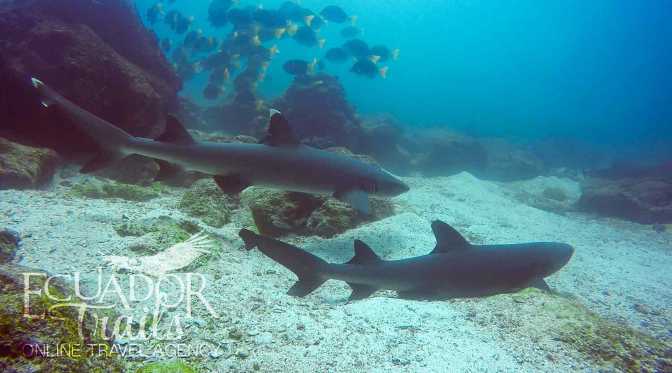 Galapagos sharks
There are around 30 species of sharks found in the Galapagos islands, neither of them harmful to humans. The most common sharks found in the islands are; the white-tip reef shark, black-tip reef shark, two different species of hammerheads, the Galapagos shark, the grey reef shark, the tiger shark, the hornshark and the whale shark. Sadly the population of sharks is decreasing every year despite the full protection the have in the Galapagos National Park.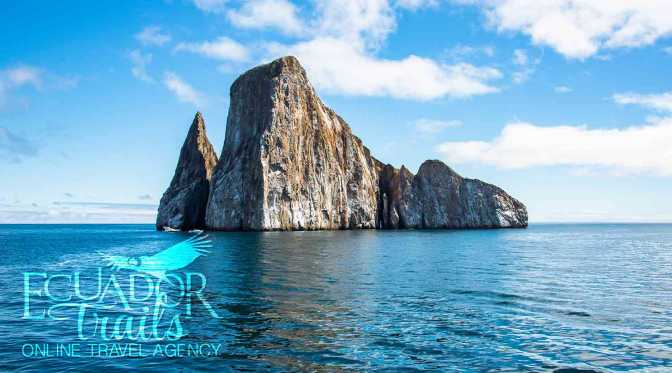 The cathedral of tuff
Lava can make its way thoughtout vents and fissures from the main volcano structures or the main crater. The small fissure eruptions result in a cone formation, known as parasitic cone. There are two types of parasitic cones; tuff cones and spatter cones. Tuff cones are generally found close to the shorelines of the coast. They are formed when water contracts magma while lava is coming out of a vent.
Kicker Rock
6FFJ+28 San Cristobal, Ecuador
Kicker Rock
---
Travel Tip
The weather in the islands is generally warm but there are some months were we have some rain, so it will be a good idea to bring a rain jacket. Of course don't forget your sunscreen, swimsuit, sunglasses, comfortable shoes and of course a camera.
Information
Tour details.
Departure

San Cristobal Pier
Only logged in customers who have purchased this tour may leave a review.