Bartholomew Island & Sullivan Bay Tour
Bartholomew Island is a wonderful landscape island of an extinct volcano, that has to offer many beautiful varieties of volcanic formations with bright colors like red, orange, green and black, and is considered one of the best snorkeling sites in the central Galapagos region. Additionally, you will know Sullivan Bay, unique landscape, where are spot tuff cones, miniature spatter cones, and the imprints of tree branches in the once molten rock all over the island.
Key Features
Extinct volcano and volcanic formations

Unforgettable experience and views
Description
During this tour, you will admire the volcanic formations on the Bartholomew Island and Sullivan Bay, and some of the endemic fauna species. Also, you will have the opportunity to do activities such as hiking and snorkeling, and walk on a sandy beach. This will be an incredible and unforgettable experience with amazing unique volcanic formation views.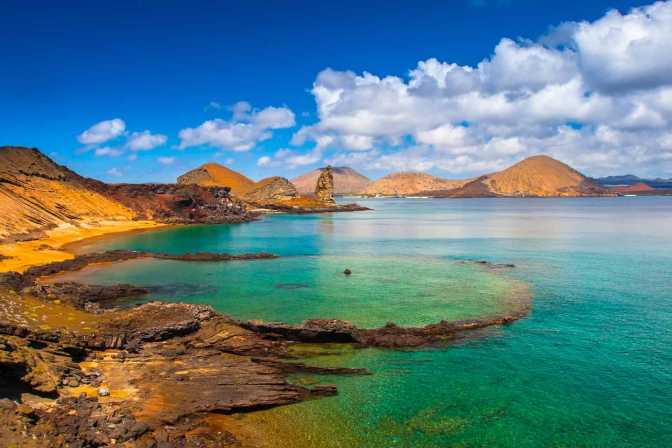 Bartholomew Island
Bartholomew is a small Galapagos Island located 18 miles northwest of the Itabaca Channel. It's considered one of the best snorkeling sites in the central Galapagos region, a swim at the foot of the Pinnacle Rock and around, its base is the most important deep-water snorkel with many different species of parrotfishes, marine turtles, sea lions and sometimes Galapagos penguins.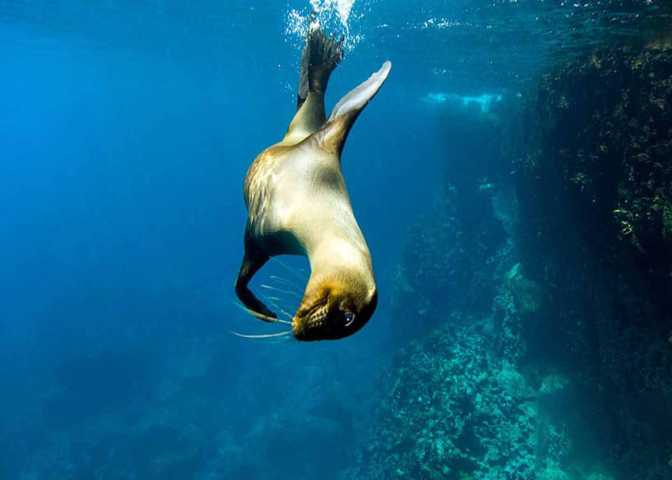 Galapagos sea lion
This coastal animal, which is generally playful and curious, measures between 1.5 and 2.5 meters and spends most of its time near the coast. It's capable of diving to depths of 350 meters and can stay underwater for up to ten minutes. It feeds on a wide variety of fish, but above all sardines, but also octopuses and crustaceans. A single male care for many females and spends much of his time defending his territory from other males. Females have one calf per year; with a gestation time of 11 months. The young of this species have different barks, in this way the mothers can differentiate their young when they return from hunting food. This species is listed as endangered by the IUCN.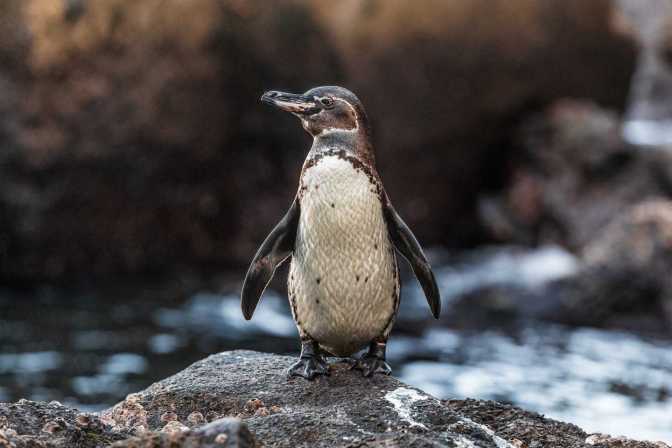 Galapagos penguin
Is endemic to the archipelago and is the northernmost penguin species in the world. The majority of its population lives on the Fernandina and Isabela islands. In addition, it is the third smallest class of penguins on the planet with 50 cm. They feed of fish and crustaceans. Their reproduction depends on the availability of food, which is closely linked to the environment, and it is for this reason that climate change constitutes a serious threat to their future. They generally lay 2 eggs that are incubated by both parents for 40 days. It has a life expectancy of up to 20 years.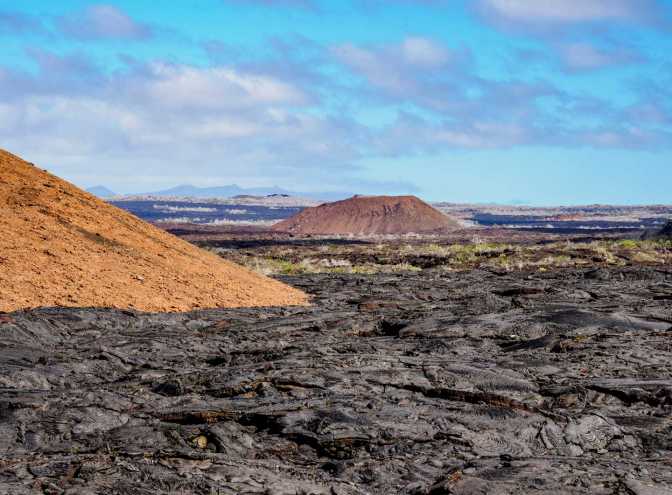 Sullivan Bay
Located on the southeastern coast of Santiago Island, is an important geologic interest spot. This landscape is composed of lava flows, specifically, the area is covered by Pahoehoe lava flows (Pahoehoe which means in Polynesian language "easy to walk"), this type of lava is rare to the rest of the world but is common to the volcanoes of the Galapagos Islands and Hawaii because they share the same volcanic origin.
Bartholomew Island & Sullivan Bay
Bartolomé Island, Ecuador
---
Travel Tip
To have a better experience during this tour, we recommend you to bring a small waterproof backpack, comfortable walking shoes, shorts trousers, t-shirts, long and shorts leveed shirts, windbreaker, bathing suit, snorkel equipment, a hat or cap, sunscreen, sunglasses, binoculars and a camera.
Information
Tour details.
Only logged in customers who have purchased this tour may leave a review.